McMenamins Edgefield Concerts Information
Listed on the National Register of Historic Places, McMenamin's Edgefield Amphitheater is part of McMenamin's Edgefield complex, which used to be known as Multnomah County Poor Farm. Opened in November 1911 as the largest county-funded relief institution in Oregon, the state-run farm was tasked with caring for the local poor, or "inmates" who supplied labour for the 300+-acre estate, which in turn supplied enough fruit, vegetables, dairy, hogs, and poultry raised on property to feed its own population, as well as the county hospital and jail. After seven decades as a poor farm, having had over 600 residents at its peak in 1931, the building fell on hard times, and by the 1980s had been closed and left in a state of disrepair.
The building was arranged to be demolished, but 1986, the Troutdale Historical Society challenged the decision to destroy all the buildings, and it was bought in 1990 by Brian and Mike McMenamin. Now, it is a stunning and well-loved resort that features Oregon's premier music venue: McMenamin's Edgefield Amphitheatre!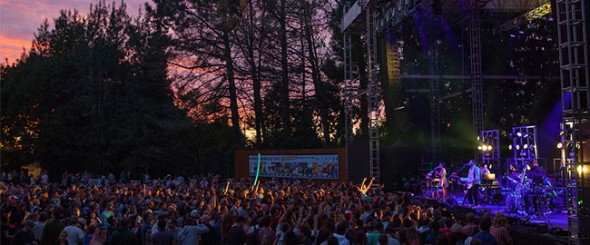 Edgefield Amphitheater is part of Historic Edgefield, which is a 74 acre stretch of entertainment, amusement, and recreation. The resort is 20 minutes from downtown Portland and only 15 minutes away from Portland International Airport. And many frequent visitors say that it has everything that music lovers want and shows off everything that Troutdale has to offer!
Edgefield Amphitheater
Edgefield is set on a sloping lawn surrounded by trees in a gorgeous part of Oregon. It's an ideal location for summer concerts where every seat is a good one with room for 7,000 guests. You'll find plenty of drinks, food, and snacks there including beer, wine, cider, spirits, food and ice cream within step of the concert venue.
There are plenty of bars and restaurants that serve a huge variety of food. A distillery where you can watch vintners at work as you sit in a cool and comfy tasting room. Or you can check out a brewery and sample a variety of spirits. There is a world class gift shop and espresso bar where you can find a huge selection of eclectic gifts including McMenamins memorabilia, handcrafted jewelry, scented candles, lotions and soaps, and freshly made espresso beverages.
The facility even has two par-3 pub golf courses where you can play around blackberry bushes while enjoying a gorgeous view of the Columbia River Gorge. There's plenty to discover to make Edgefield your #1 location for fun this season.
What Is It Like As A Concert Goer
You might be wondering what you can expect when you visit?
Many past guests compare Edgefield to an amusement park because of the incredible variety of activities and recreation choices available on sight. Whether you want to enjoy a fine meal, some fun shopping, or just have a walk among beautiful surroundings, you will not want for options. There's usually a lot going on at any one time so it feels like you will never have enough time to experience it all. So many guests turn to repeat visitors after their first taste of Edgefield.
Along with this, the crowd is usually positive, laid back, and full of wonder. There's a joy in the air that is impossible to miss and harder to deny. And that positivity often ends up filling the performing bands with energy to play some of their liveliest concert performances.
Best of all, there's just a sense of fun that you can feel from staff, guest, and performers alike. Edgefield is beautiful and it brings ou the best in its guests..